Auto gain staging plugin for your levels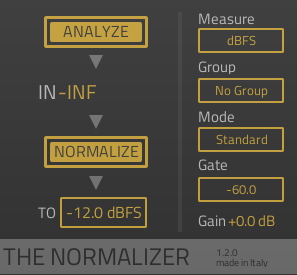 TheNormalizer is a gain plugin designed to help you get proper gain staging and set each track of your mix and each bus to the level you want automatically.
It's the plugin that encapsulate our auto-gain technology in a single package, with TheNormalizer you can automatically gain stage all of your tracks thanks to the grouping function or you can normailize your buses to the LUFS you want, also if you need to meet some maximum peak specification you can also normalize to the specific dBFS level.
And the best is that once the gain has been set the plugin only uses the CPU needed by a simple multiplication, so it doesn't tax your computer at all.
TheNormalizer also has a handy "continuous mode" that can be used to continuously adjust the gain amount to match the level you set. This is similar to the behaviour of AutoGain Pro set with the internal reference and it's perfect to slowly adjust the loudness of a dynamic track (like a voiceover for example).
The plugin offers a very easy and simple interface that allows you to quickly adjust  the parameters.
Demo limitation
The demo is fully functional except for the fact that every now and then it will silence out, you cannot save parameter values with your session and the plugin will not respond to automation coming from the host.
Features
Automatic audio normalization to the set level.
Level can be expressed in: dBFS, VU, RMS, LUFS (integrated, short term or momentary).
Peak or continuous normalization.
Group function to apply the same parameters to a group of plugins.
Gate to prevent normalization from working for low levels
macOS (10.7 and later) and Windows (Vista and later) support.
32 and 64-bit compatibility both on Mac and Windows.
Audio Units VST2.4, VST3 and AAX format.
Copy protection
The HoRNet TheNormalizer has no copy protection, I don't believe in copy protection, they are always cracked and they are annoying for the users, we all know you are not going to give away the plugin on the internet…
So simply download the plugin and enjoy your recordings!
---
---