Shape that sound the way it should be
The HoRNet SW34EQ is an equalizer coming straight from the 80s. It's the digital version of the EQ found in an American console and it features the typical analog EQ sound and controls.
This plugin is specifically modeled after one channel of this console used in the main room of Virus Studio, here in Siena, Italy. This EQ is very smooth and gentle, both in the EQ shapes (bells and shelves) and it's almost perfect for general tone shaping, especially the low shelf gives weight to the sound without pumping it too much.
You also get an high-pass filter at 40Hz with 18dB/oct slope that can be activated even if the rest of the EQ is not.
Complete analog emulation
The SW34EQ does not just model the EQ curves but also the saturation characteristics of the original device, we are talking about an 80s console here so there are op-amp everywhere in the signal path and the saturation mainly produces even harmonics, but as you crank the gain a lot of odd harmonics jumps out. Of course the hiss is modeled too and the whole emulation can be deactivated.
We also tried to emulate the workflow of the EQ and we put the frequency and gain knob on the same axis, the only indication of the current frequency for every band is on the outer of the knob, while there is no explicit gain indication for the gain knob, you only know that at maximum you have +/- 15dB of gain or reduction. This is for hardcore mixers who use their ears and nothing else to get the job done.
Testimonials and Reviews
This HoRNet SW34EQ has a lot of positives going for it and even the few negatives don't negate the fact that it just sounds friggin' good.  It really is starting to become part of my workflow and is basically in every new session at this point; usually multiple instances.
Video overview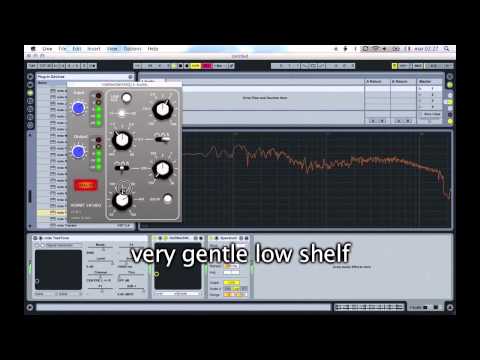 Demo limitation
The demo is fully functional except for the fact that every now and then it will silence out, you cannot save parameter values with your session and the plugin will not respond to automation coming from the host.
Features
4 band equalizer
high and low shelf filters
2 parametric filters with three different Q
low cut filter at 40Hz with 18/dB octave slope
analog emulation with saturation and hiss
Mac OS X (>=10.7) and Windows support
64bit compatibility both on Mac and Windows
Audio Units, VST2.4, VST3 and AAX format
Copy protection
The HoRNet SW34EQ has no copy protection, I don't believe in copy protection, they are always cracked and they are annoying for the users, we all know you are not going to give away the plugin on the internet…
So simply download the plugin and enjoy your recordings!