Magnus MK2 2.1.0 is available, this update is free for owners of the plugin and includes:
Added support for Apple Silicon M1
Fixed interface being too small on high dpi monitor on windows
High quality two stage brickwall limiter
​Magnus MK2 is a 2 stages brick-wall limiter with automatic output level and comprehensive metering, its purpose is to make your tracks the loudest possible.
To achieve this the limiting process is divided in two steps each with separate oversampling options: the first is a clipper that can work like a hard digital clipper or a soft analog one. This stage lets you cut away those small peaks that nobody is going to hear and that will make the limiter work too hard and sound less transparent.
The second stage is a brickwall limiter that will compress everything above 0dBFS.
Simply use the two big knobs to increase the level until you are getting the right amount of gain reduction by any of the two stages.
Do you have a very percussive track? Use more clipper to cut those sharp transient and let the limiter work less. A soft song? Abuse the limiter and don't use the clipper.
A very transparent limiter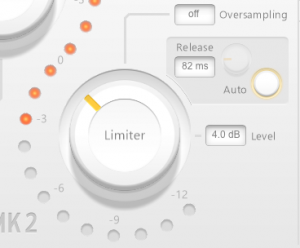 The limiter in Magnus is an advanced tool, the attack it's instantaneous and the release is made of three different stages, these stages are musically tuned and follow the classic time divisions of music, when summed you get a release envelope that works faster on the upbeat and gradually slower on the rest of the measure.
This kind pf envelope allows Magnus MK2 to be a very musical and transparent limiter allowing high level of gain reduction without obvious compression pumping.

Comprehensive output metering
Magnus MK2 includes some very useful metering options, the output level is displayed as complessive RMS and integrated LUFS, also the LU range is displayed.
We have also added both output peak and RMS meters to visually give you a clue on the output levels.
Automatic output compensation
If you are in a hurry and you want to reach a precise output value just enable the auto output that will automatically trim the output knob to reach your specified peak level in both dBFS, RMS or LUFS.
Demo
The demo is fully functional except for the fact that every now and then it will silence out, you cannot save parameter values with your session and the plugin will not respond to automation coming from the host.
Features
Clipper stage with hard and soft (analog) modes.
Brickwall limiter stage with instantaneous attack.
Separate oversampling option for clipper and limiter.
Three stage release from 1 to 500ms.
Auto release mode with sync to song tempo.
RMS, LUFS and dynamic range output metering.
Output peak and RMS meters.
12 dBs gan reduction meters with peak hold for each stage.
Automatic output level compensation in dBFS, RMS or LUFS.

macOS X (>=10.11) and Windows (Vista and later) support

Apple Silicon M1 support

64bit only both on Mac and Windows

Audio Units VST2.4, VST3 and AAX format
Copy protection
The HoRNet Magnus MK2 has no copy protection, we don't believe in copy protection, they are always cracked and they are annoying for the users, we all know you are not going to give away the plugin on the internet…
So simply download the plugin and enjoy your recordings!