Fat wide and smooth chorus
Chorus60 is an emulation of a very famous vintage chorus found in an 80s iconic keyboard.
When this particular keyboard was released it only had one oscillator per voice and to make the sound thicker the manufacturer used this particular kind of chorus that became the signature sound of many hits like "Sweet Dreams".
We took the original schematic, analyzed, simulated and recreated it in a plugin, and also added control for the internal chorus parameters like the LFO rate, Dry/Wet control and the chorus wideness.
The analog characteristics are reproduced, both in saturation and hiss but can be enabled or disabled independently.
For the best sound quality a 2x oversampling is also provided.
The secret of the sound of this chorus lies in the particular analog BBD used and in its pre and post filtering that we faithfully recreated, the same technology has been used by many other products of the same manufacturer including guitar pedals.
Chorus60 sounds great on everything from keyboards to vocals to guitars and gives you the sound that defined the chorus of the 80s but with the flexibility and controls of 2015.
When opened the plugin defaults to the settings used in its original design, its sounds good as it is but you can experiment with the parameters to adapt it to your needs.
Sound samples
Demo limitation
The demo is fully functional except for the fact that every now and then it will silence out, you cannot save parameter values with your session and the plugin will not respond to automation coming from the host.
Features
Smooth fat and wide chorus.
Mode I, Mode II and Mode I+II available as in the original unit.
LFO rate adjustable for each of the three modes.
Chorus stereo wideness control.
Dry/Wet control
Analog saturation and hiss with separate controls
2x oversample mode for best quality
Input and output faders with VU meters
Mac OS X (>=10.7) and Windows support.
64-bit compatibility both on Mac and Windows.
Audio Units VST2.4, VST3 and AAX (mac only) format.
Video Overview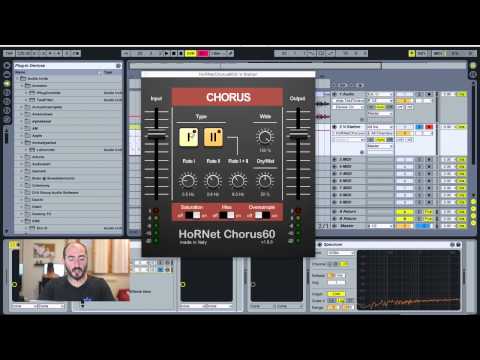 Copy protection
The HoRNet Chorus60 has no copy protection, we don't believe in copy protection, they are always cracked and they are annoying for the users, we all know you are not going to give away the plugin on the internet…
So simply download the plugin and enjoy your recordings!
---
---