Gain automation plugin
The HoRNet AutoGain has been designed with a specific purpose in mind: drastically shorten the time it takes to create gain automation curves.
When finishing a mix usually you have some tracks that need some volume adjustment here an there, you could adjust individual clip gain or start writing volume automation, but this is a long and boring task…
Here it comes the HoRNet AutoGain to the rescue.
It has two different inputs, in the main one put the track you want to automate, in the second one your volume reference, it may be a single track, a track group or the whole mix, press play and let the HoRNet AutoGain work its magic. It will try to keep your track level to the same of your reference creating the needed gain automation, you can adjust speed, sensitivity and gain range.
Try it on a vocal track and when you are done put it into "write mode" to have the gain automation written for you! Have a look to the video example!
Testimonials and Reviews
for the price this plug-in provides more than enough functionality and quality for a project/demo studio. With its appealing price tag and simple user interface, the Pro Audio Web Blog gives the HoRNet Auto Gain a 4 out of 5 stars

AutoGain's main purpose is leveling vocals and lead lines, which it does nicely. A sidechain monitor button might be useful, but this is a bargain-priced winner – it makes you wonder why this sort of thing isn't built into DAWs as standard. 9/10 
Demo limitation
The demo is fully functional except for the fact that every now and then it will silence out, you cannot save parameter values with your session and the plugin will not respond to automation coming from the host.
Features
Automatic gain riding
Adjustable reaction speed
Adjustable reference sensitivity
Adjustable gain riding range
Mac OS X (>=10.7) and Windows support
64bit compatibility both on Mac and Windows
Audio Units VST2.4, VST3 and AAX format
Video Overview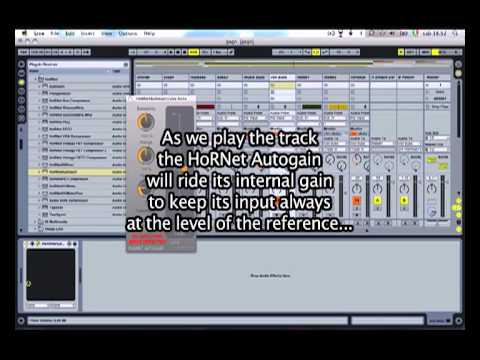 Copy protection
The HoRNet AutoGain has no copy protection, we don't believe in copy protection, they are always cracked and they are annoying for the users, we all know you are not going to give away the plugin on the internet…
So simply download the plugin and enjoy your recordings!
---
---