Two stages brickwall limiter
Magnus is a 2 stages brick-wall limiter, its purpose is to make your tracks the loudest possible.
To achieve this the limiting process is divided in two steps: the first is a clipper, hard or soft, that let you cut away those small peaks that nobody is going to hear, the second is a limiter with a fixed threshold of -0.2dB.
Simply use the two big knobs to increase the level until you are getting the right amount of gain reduction by any of the two stages.
Do you have a very percussive track? Use more clipper to cut those sharp transient and let the limiter work less. A soft song? Abuse of the limiter and don't use the clipper.
The limiter in Magnus is a quite sophisticated tool, the attack it's instantaneous and the release is made by two different stages, the first one is very short and the second is longer so that the plugin is able to recover fast from sudden peaks but able to keep a sustained level to avoid obvious pumping.
Going into technical details, the release time set with the release knob is the time of the longer envelope, the short one is exactly one fourth, so that it will always musically match the tempo of the song.
If you are unsure, use the Auto Release button that sync the release time with the song tempo reducing pumping as much as possible also when generous gain reduction is going on.
Demo limitation
The demo is fully functional except for the fact that every now and then it will silence out, you cannot save parameter values with your session and the plugin will not respond to automation coming from the host.
Features
Clipper stage with hard and soft (analog) modes
Brickwall limiter stage with instantaneous attack
Two stage release from 1 to 500ms
Auto release mode with sync to song tempo
Two and four time oversampling available
RMS output metering
60 segments input meter for each stage
10 segments gain reduction meter for each stage
Mac OS X (>=10.5 intel only) and Windows support
64bit compatibility both on Mac and Windows
Audio Units VST2.4, VST3, RTAS and AAX format
Video Overview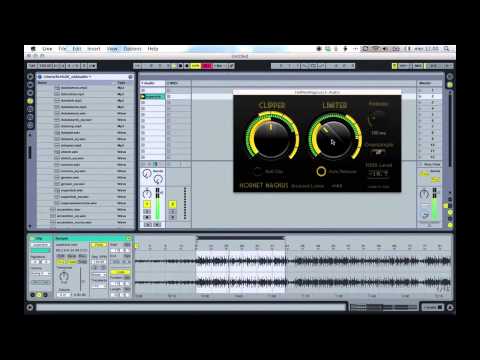 Copy protection
The HoRNet Magnus has no copy protection, I don't believe in copy protection, they are always cracked and they are annoying for the users, we all know you are not going to give away the plugin on the internet…
So simply download the plugin and enjoy your recordings!