The dynamics toolkit
HoRNet VCA offer a toolkit for controlling the track level, it can work as a simple Voltage Controlled Amplifier using a control signal in it's sidechain input.
Starting from there you can add functionality like an envelope follower on the control signal, with attack and release ranging from 1ms to 3000ms or an RMS module.
The VCA acts only if the control signal is above the set threshold that goes from -80dB to 0dB, above this threshold positive or negative gain, which can be scaled by a specific control, is applied.
You can also transform VCA in a complete compressor or expander using its input or its output as control signal for feedback or feedforward compression/expansion.
Summing it up VCA is:
A volume control tool with optional RMS detection and attack and release settings.
A feed forward compressor with optional RMS detection and external sidechain.
A feedback compressor with optional RMS detection and external sidechain.
An expander with optional RMS detection.
Versatile volume toolkit
The HoRNet VCA is for you tweakers, it allows complex automation of signal level, working similar to the AutoGain, but in a more general way think of it as the VCA element in a console, or a synth, just change the gain of your tracks using any reference signal: a kick, a synth, a slow moving LFO, anything really.
And since the VCA is the core of a compressor, of course you get a compressor construction toolkit that allows you to create RMS compressors, feedback compressors, aggressive or more relaxed ones, just activate the internal reference and set the reversed gain. The scale factor now acts as a ratio control, have fun.
Visual gain display
The HoRNet VCA provides a very handy visual gain display graph that updates over time, instead of using a standard instantaneous gain meter that only gives you the gain reading at a specific point in time.
The HoRNet VCA has a superior gain display that gives you a visual representation of the gain changes applied by the plugin
Video overview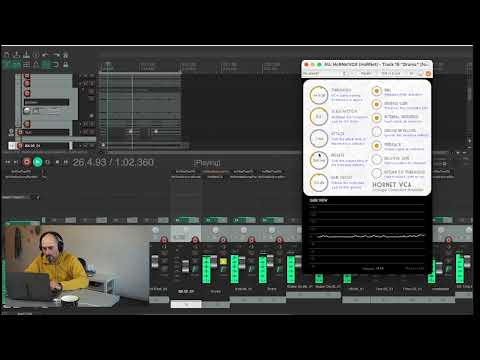 Demo limitation
The demo is fully functional except for the fact that every now and then it will silence out, you cannot save parameter values with your session and the plugin will not respond to automation coming from the host.
Features
internal (input and output) and external reference
positive and negative gain adjustment with gain scaling
absolute or relative gain detection
optional envelope detector with times raging from 1ms to 3000ms
optional RMS detection
graphical gain adjustment display
Mac OS X (>=10.7) and Windows support
64bit compatibility both on Mac and Windows
Audio Units VST2.4, VST3 and RTAS format
Copy protection
The HoRNet VCA has no copy protection, I don't believe in copy protection, they are always cracked and they are annoying for the users, we all know you are not going to give away the plugin on the internet…
So simply download the plugin and enjoy your recordings!