Your mixing tool
The HoRNet ChannelStrip MK2 is a versatile plugin designed for every day use. The development took almost one year but we designed a tool that you can put on every channel and gives you one EQ and two dynamics processors, everything you usually need to achieve a sweet mix.
In addition to the Equalizer an Dynamics sections the ChannelStrip MK2 includes:
Module order freely rearrangeable for the desired signal path (ex. Expander -> EQ -> compresor for a typical drum setup, or EQ -> FET compressor -> OPTO compressor for a typical vocal setup)
Analog emulation that adds saturation (each model has a different saturation type) and other non linearities
Oversampling where it matters, it means that each model has a different oversampling level when the option is activated so that the plugin always use least amount of CPU needed for the maximum quality
Effective metering: every module has its own input and output meter and level trim and since everything is built around analog models I have put there VU Meters instead of peak meters, you have peak meters in your daw!
One sweet equalizer
The HoRNet ChannelStrip MK2 features one equalizer with a vary sweet tone that has the classic controls of a large console equalizer, but with some experience tuned EQ curves. The EQ in the ChannelStrip has:
Hi pass and Low pass filters
Hi Shelf inspired by the one found in a famous British console
Low Shelf inspired by the peculiar response of a famous passive EQ
Three parametric bands that with a wide Q range that can be used for tone shaping and surgical filtering
Versatile dynamic processors

We fit two dynamics processors each in the ChannelStrip MK2 so that you can compress the right way. Each module has four different compression models:
VCA: inspired by the common compressors found in consoles, solid state feed forward versatile compression
FET: an emulation of the character of very fast vintage FET units, it's a feedback compressor and can be very aggressive
OPTO: inspired by a famous tube limiter, its feed forward and has a smooth response
Expander: works as a traditional gate/expander based on a VCA design
Presets
We have prepared some generic preset that you can use in your sessions, remember, these are just a starting point, you must tweak them to suit the content of your tracks.
All these presets assume that the input signal is around 0VU so tweak the input knob so that the input meter flashes red on peaks but for the most of the time it stays yellow.
Demo limitation
The demo is fully functional except for the fact that every now and then it will silence out.
Features
One equalizer with filters, shelves and 3 parametric filters
Two dynamics processors
Four different compression models
Signal path freely rearrangeable
Analog emulation
Oversampling
Mac OS X (>=10.5 intel only) and Windows support
64bit compatibility both on Mac and Windows
Audio Units, VST, VST3 and RTAS format
Video Overview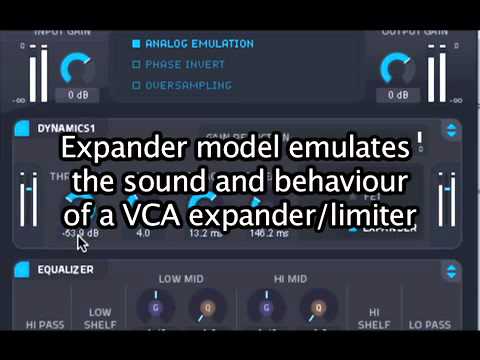 Copy protection
The HoRNet ChannelStrip MK2 has no copy protection, I don't believe in copy protection, they are always cracked and they are annoying for the users, we all know you are not going to give away the plugin on the internet…
So simply download the plugin and enjoy your recordings!