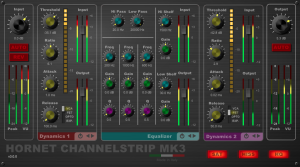 The new ChannelStrip MK3 is finally out, it was an update needed for a very good sounding plugin that started showing its age.
The ChannelStrip has been the first plugin we designed and the MK2 version dated back to 2011. It's meant to be a complete mix solution to be used on every channel since it provides a very flexible routing for its two dynamics module and eq.
The EQ is an analog modeled EQ that provides a lot of flexibility with 3 parametric filters two shelves, one high pass and  low pass filter.
Each dynamics module offers three different compressors based on the classics: VCA, FET and OPTO and one expander/gate based on the VCA design.
This complete toolset gives you a mix solution that will rarely require any external tool, now it looks better than ever with a big GUI that is beautiful to look at.
Words cannot describe user experience, so simply download the demo and try it out!
If you own the ChannelStrip MK2 log into your account, then browse to the new ChannelStrip MK3 page, you'll find a very special upgrade price.
Try out the new ChannelStrip MK3