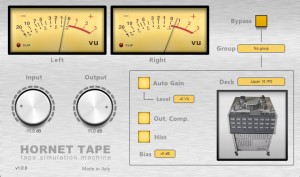 HoRNet has released Tape, a plug-in simulation of the effect that magnetic tape applies to the signal recorded on it.
What Tape does is to apply the distinct saturation of analog tape to your tracks and also adds the specific frequency response of four different popular tape machines, each at two different speeds, 15 or 30 inch per second.
HoRNet Tape allows you also to change the bias applied to the tape changing the saturation characteristics and allowing you to increase the effect.
The tape deck emulation includes both the typical frequency response given by the playback head and the internal electronics saturation.
Features:
Analog tape saturation simulation.
Emulation of four different decks.
Two different tape speed for each deck.
Output compensation for constant level monitoring.
Input analog VU meters.
Auto Gain with three different target levels.
Three tape bias options.
Analog hiss simulation.
Group function to copy settings from instances.
Bypass button.
Mac OS X (>=10.6 Intel only) and Windows support.
64-bit compatibility both on Mac and Windows.
Audio Units VST2.4, VST3 and AAX format.
HoRNet Tape is available for 19.99 €
Try out the new HoRNet Tape