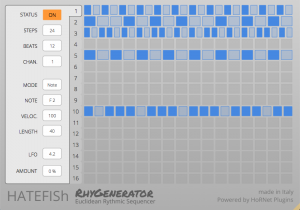 We are happy to announce the availability of HATEFISh RhyGenerator, a step sequencer plugin that creates euclidean rhythms.
HATEFISh RhyGenerator provides 16 different step sequencers that support up to 32 steps each and can work in five different modes: note, arpeggiator up, arpeggiator down, chord and control change.
Each of the sequencers uses the euclidean rhythm algorithm to create rhythmic patterns in a few seconds.
Features:
Up to 16 different euclidean step sequencer.
Five different working modes for each of the sequencers.
Up to 32 step for each sequencer.
Automatic euclidean rhythm generation.
One LFO on each sequencer to create modulations.
MIDI effect in Logic Pro X.
Resizable vector GUI.
Mac OS X (>=10.7) and Windows support.
64-bit compatibility both on Mac and Windows.
Audio Units VST2.4, VST3 and AAX format.
HATEFISh RhyGenerator is available now for 14,99€